My chosen medium is the humble pencil, both graphite and coloured. I love the simplicity of pencil, the cleanliness, the accessibility and the portability of it. But mainly, I am passionate about the direct mind to pencil to story to art connection that working in pencil affords me. There are no delays while mixing colours; no pausing to clean brushes; no waiting for paint to dry; no interruptions in the "I think, therefore I create" process. I love that.
I work in a style that strives toward realism, not in strict imitation of life, but in pliant reflection of it. To portray an illusion of reality to the degree that the viewer is transported into the world I create with my pencils – that is both my aspiration and my challenge as an artist.
Through my art, I like telling "our" stories, and particularly enjoy using elements or themes that relate to nature, relationships, spirituality, myth, fantasy and/or history in my work in such a way that allows me to describe and explore the connections, journeys, beauty, emotions, strengths, frailties and the very condition of what it means to be human and to experience this gift we call life.
My work is an open invitation to the viewer to pause for a moment and simply enjoy the story I have created, as expressed through my chosen subject. As such, I want my work to not only encourage close inspection and consideration, but to also provoke such thought and arouse such emotion that the viewer feels compelled to step outside themselves and into my drawing, where they are welcome to walk within the world I've created and to live in my story for a brief time. When they are ready to step away, it is my fondest hope that perhaps a small piece of the story I've told will have marked their heart and will linger in their memory.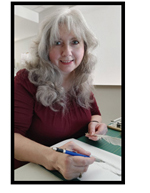 Award-winning artist, Lissa Rachelle has loved making marks on paper with pencils for as long as she can remember. Her dad was a closet artist and taught her to sketch all manner of animals as a child.
As she got older, she developed other interests and by the time she was married and had a family of her own, she only sketched occasionally ... however, she rediscovered her passion for drawing once her kids were grown and she finally had time for herself again.
Her interest resurfaced with a passion in about 2001, when she decided to teach herself realism. She started down her graphite path doing mainly portraits, then really developed an interest in birds and they have become her primary focus over the past several years.
More recently she's become very interested in and aware of the health of our one and only beautiful Earth and the endangerment of some of our most iconic species and, consequently, she feels called to illustrate her concerns ... so she sees a bit of a shift in subject matter coming up in future drawings.
While Lissa loves expressing herself through her drawings, she is also deeply passionate about sharing the magic of pencil with others, and feels called to focus much of her future time on teaching others to draw.
Lissa Rachelle also occasionally dabbles in other media, mostly ink and / or watercolour, as a playful "break" from her more focused, time-consuming, detail-oriented realistic pencil style.
2021
GOOSEBUMPS: THE NATURE OF BIRDS SOLO EXHIBITION
Ottawa, ON
Arteast 2021 Mosaics Juried Art Exhibition
Ottawa, ON
2020
ARTEAST ARMCHAIR VIRTUAL SHOW
Online
2019
Baz' ArtJuried Group Exhibition
Ottawa, ON
Arteast Winter Mix 2019 Group Exhibition
Ottawa, ON
37th Annual Arteast Juried Awards Exhibition
Ottawa, ON
Sketch For Survival 2019 Invitational Exhibition
London, England
Arteast Promenade Summer Inspiration Exhibition
Ottawa, ON
2018
36th Annual Arteast Juried Awards Exhibition
Ottawa, ON
Selections 2018 Juried Art Show
Ottawa, ON
Arteast Spring Mix 2018 Group Exhibition
Ottawa, ON
Arteast 2018 Mosaics Juried Art Exhibition
Ottawa, ON
Arteast Ottawa
Arts Network Ottawa
Former Artist Instructor with Paint Nite
AWARDS
---
A Juror FAVOURITE
White-Breasted Nuthatch
Artists Magazine Best of Drawing 11th Annual Strokes of Genius Competition, 2020
Juror's Choice / First Place
Night's Breath
17th Annual Selections Juried Art Exhibition, 2018
Second Place, Works On Paper
The Lookout
37th Annual Arteast Juried Awards Exhibition, 2018
PUBLICATIONS
---
Artists Magazine Best of Drawing 11th Annual Strokes of Genius Competition