Thinking of getting that special someone the perfect, unique gift for Christmas, Valentine's Day, Mother's or Father's Day, or a Birthday, Anniversary, Graduation or Retirement? Why not celebrate your special occasion with a custom hand-drawn pencil portrait / drawing of that beloved pet or favourite wild animal that will last a lifetime and can be treasured for generations to come as an heirloom keepsake?!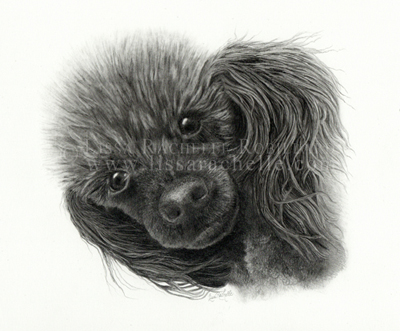 I accept a limited number of graphite and coloured pencil commissions every year and my openings fill up quickly, especially for Mother's and Father's Day and the Christmas season, so please make your booking early to avoid disappointment.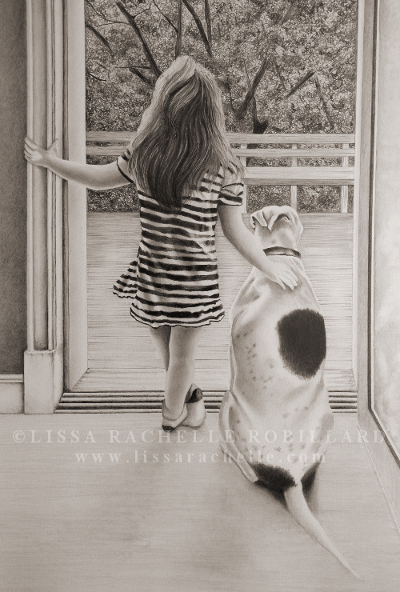 ~ * ~
COMMISSION FEES
Generally speaking, my commission prices depend on the size of the work, the number of subjects / objects, the amount of detail in the background and the overall complexity involved. Detailed backgrounds that include scenery, buildings, furniture, etc. require a lot more time and are therefore not included in the basic prices listed below.
Prices are in CAD and are for the number of subjects indicated (head and shoulders view) with a very lightly/plainly shaded background or without a background.
Please don't hesitate to email me and we can discuss any additional costs involved if you would prefer the drawing to include a full body pose, additional subjects, more detailed backgrounds or subjects / objects other than the main subject.
All commissioned work comes with a free matting sized so the drawing will fit inside a standard size frame.
GRAPHITE
9" x 12" (matted to 14" x 18") = $340 - 1 subject
12" x 16" (matted to 16" x 20") = $450 - 1 subject
12" x 16" (matted to 16" x 20") = $510 - 2 subjects
16" x 20" (matted to 20" x 24") = $575 - 1 subject
16" x 20" (matted to 20" x 24") = $650 - 2 subjectS
16" x 20" (matted to 20" x 24") = $725 - 3 subjectS

COLOURED PENCIL
9" x 12" (matted to 14" x 18") = $425 - 1 subject
12" x 16" (matted to 16" x 20") = $550 - 1 subject
12" x 16" (matted to 16" x 20") = $610 - 2 subjects
16" x 20" (matted to 20" x 24") = $675 - 1 subject
16" x 20" (matted to 20" x 24") = $750 - 2 subjectS
16" x 20" (matted to 20" x 24") = $825 - 3 subjectS
~ * ~
Please note that in order to begin the work, I require a non-refundable 50% deposit. The remaining 50% is to be paid after you've approved the completed work, but before delivery / shipping. I accept Email Money Transfer (if you live in Canada), credit card or Pay Pal.
~ * ~
***
RESCUE SPECIAL

***
Is your Fido or Fluffy from a Rescue organization?
Provide proof and, on completion of your pet's portrait,
I will donate 10% of my commission fee to that
rescue organization in your Fido's or Fluffy's name!
~ * ~
HOW LONG WILL IT TAKE?
Depending on the size and complexity, I will usually have the drawing ready to deliver / ship to you anywhere between 2-6 weeks after having received your deposit and reference photo(s). If there is a deadline you need met (ie: Christmas or Birthday gift), I will not accept the commission unless I feel confident that I can make your deadline for you.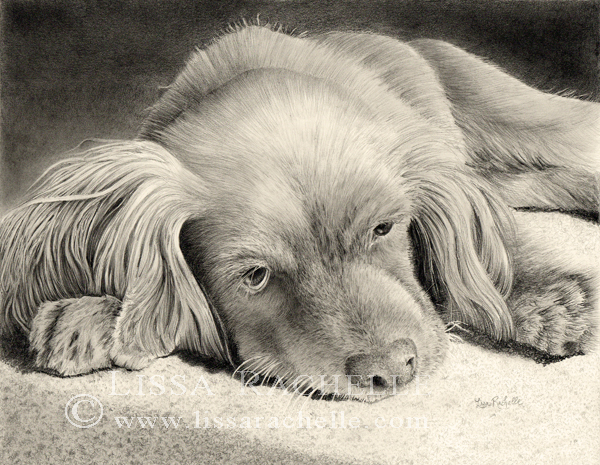 ~ * ~
DELIVERY / SHIPPING
Finished drawings will be either hand delivered (if you live locally and it is convenient for us to meet) or mailed inside a flat mailing envelope with the drawing sandwiched between stiff boards to protect it. Shipping costs and methods will be discussed when the commission is accepted, and will be added to the total price.
~ * ~
REFERENCE PHOTOS
I am only able to draw that which I am able to see, so good reference photo(s) are essential. When looking through your photos (or taking new ones) for a commissioned portrait, look for the following:
* A photo in which the subject's face (or object that is the centre of interest) is sharply in focus. I only accept digital photo references, and the resolution of the photo must be 300 dpi, with dimensions of at least 500 x 500 pixels

* A photo that is well lit. It should be correctly exposed, with good contrast and no areas that are "bleached" out due to overexposure or flash use and no areas that are "blacked out" or blurry due to underexposure. Photos that are taken outside in natural daylight are usually best.

~ * ~
If you have any questions or would like more detailed information please email me.